With the largest selection of luxury fireplaces in a variety of designs, ranging from traditional to contemporary, an Ortal fireplace complements any decor. But don't take our word for it.
In this case study, you'll find stories from design and architecture firms that utilize Ortal fireplaces in their designed spaces. Download Bringing Design Visions to Life: Four Ortal Success Stories for firsthand client accounts that speak to our: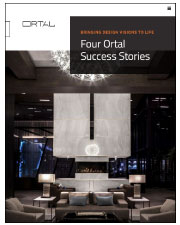 Top-of-the-line luxury fireplaces

Easy installation process

Knowledgeable and solution-driven professionals
Looking for innovative and customizable luxury fireplace design from a company that's been redesigning fire for more than 30 years? Learn why design and architecture firms choose Ortal. Complete this form to download the case study.
Do you have any questions? Give us a call at or feel free to check out our latest fireplace collections in the 2019-2020 catalog.